About Ted Cantle
---
Ted Cantle set up the Institute of Community Cohesion (iCoCo) and this became the UK's leading authority on community cohesion and intercultural relations. He has established the iCoCo Foundation to build on this work and to develop policy and practice on interculturalism and community cohesion. He is also now Chair of a new UK National charity established to build the capacity of this sector, see: The Cohesion and Integration Network
In August 2001, Ted Cantle was appointed by the Home Secretary to Chair the Community Cohesion Review Team and to lead the review the causes of the summer disturbances in a number of northern towns and cities. The ground breaking Report –known as 'the Cantle Report' – was produced in December 2001 and made around 70 recommendations. The concept of 'community cohesion' was subsequently adopted by the UK Government and many of the interventions which it spawned have been used by local communities in this country and around the world. Community cohesion programmes have succeeded in reducing tension in local communities by promoting cross cultural contact, developing support for diversity and promoting unity.  Cohesion also continues to tackle inequality and the prejudice and discrimination which underpins it. (Ted's book Community Cohesion: a New Framework for Race and Diversity) provides a historical background and review of current policy and practice
Over the last ten years or so, Ted has led the development of new techniques, practical guidance and promoted good practice. He has worked with local authorities, the voluntary sector, schools, governmental departments as well as the business sector and other agencies.
More recently, Ted has been responsible for developing the idea of 'interculturalism' for the new era of globalisation and super-diversity. This is the subject  of his new  book – Interculturalism: The New Era of Cohesion and Diversity
Environment campaigner
Ted is also passionate about the environment and continues to champion environmental causes, especially those focused on tackling climate change. Ted set up and chaired and is currently a Patron, of Sustainability First, which is particularly focussed on energy management techniques. He was a member of the Board of the Environment Agency for England and Wales (from 2000 to 2008) and Deputy Chairman (2005 to 2008). Ted led the Environment City bid for  Leicester City Council in the late 1980s and the Nottingham Declaration on climate change in 2000, which was subsequently adopted by just about all local authorities in the UK and has now spread to other countries.
Other stuff
In over 30 years in public service, Ted has held a wide range of senior positions at national and local level focussing, in particular, on urban regeneration and key social and environmental problems. Mr. Cantle was the Chief Executive of Nottingham City Council between 1990 and 2001 and previously Director of Housing in Leicester City Council) and in Wakefield MDC and Under Secretary at the Association of Metropolitan Authorities. He has written extensively on housing and urban regeneration issues. Ted has also worked in both the private and health sectors. He was chair of the Nottinghamshire Sports Partnership until 2012 and is currently chair of the Nottingham Castle Trust. He is also visiting professor at Nottingham Trent University and the University of Nottingham and has honorary doctorates from Oxford Brookes and Portsmouth Universities.
He was awarded the CBE in 2004 and appointed as Deputy Lieutenant in the same year.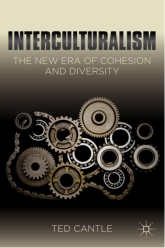 Books:  
Community Cohesion: A New Framework for Race and Diversity Published by Palgrave Macmillan. Updated Edition 2008.
Interculturalism: the new era of cohesion and diversity  Published by Palgrave Macmillan. September 2012.
Share on: